December 24th, 2020 /
December 24th, 2020
Shared Water Resources in Kuwait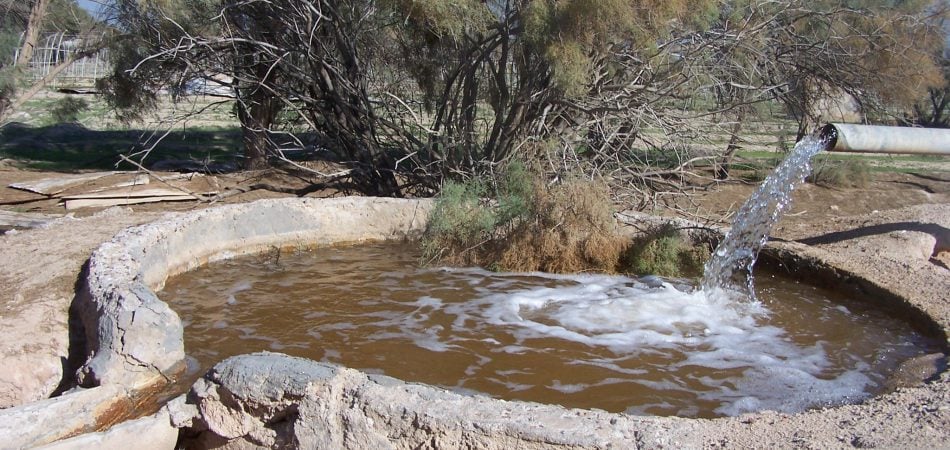 Umm er Radhuma-Dammam Aquifer System (North): Widyan-Salman
The Umm er Radhuma and Dammam constitute the main aquifers forming the shared aquifer system. The northern section of the system is shared by Iraq, Kuwait and Saudi Arabia. It covers a total area of 246,000 km2 (about 20% of the system's total area), of which around 150,000 km2 is located in Iraq, 16,000 km2 in Kuwait and 80,000 km2 in Saudi Arabia. The aquifer's climatic zone is characterized as arid, with 110 mm of rainfall annually. The system comprises two hydraulically connected layers. It is mostly confined although some parts are unconfined. The thickness of the aquifer system varies from 270 m to 680 m.[1] [2]
Most of the Umm er Radhuma-Dammam Aquifer System (North) appears to be exploitable, with the exception of the Widyan Plateau and the coastal areas, where the aquifer is either of limited extent or contains saline water. This is resulting in a water level decline of up to 60 m in both formations. The total exploitable area within the basin is 179,000 km2, of which around 123,000 km2 lies in Iraq, 9,000 km2 in Kuwait and 47,000 km2 in Saudi Arabia.[3]
System replenishment from natural sources is low (0-20 mm/yr), amounting to about 210 MCM/yr of fresh water. However, higher values up to 1,200 MCM/yr due to extreme events have been recorded. This natural recharge water percolates through an area of approximately 83,000 km².[4]
A total of 120 MCM/yr of groundwater is abstracted from the northern part, mainly in Kuwait and Iraq. The abstracted water is used for agricultural, industrial and domestic purposes.[5] In 1951, Kuwait started pumping about 1 MCM/yr, mainly from the Dammam Aquifer. The abstraction rate slowly increased to 10 MCM/yr by 1960. Over the next three decades, abstraction rates rose significantly to reach 120 MCM/yr in 1988. The high abstraction, which makes up more than 50% of the mean annual replenishment, resulted in an increased salinity level.[6] Map 3 shows the current salinity levels in the aquifer.[7]
There are no water agreements in place regarding the sharing of the waters of the Umm er Radhuma-Dammam Aquifer System (North) between Iraq, Kuwait and Saudi Arabia.[8]