October 7th, 2019 /
August 9th, 2021
Nile Pollution: Causes and Solutions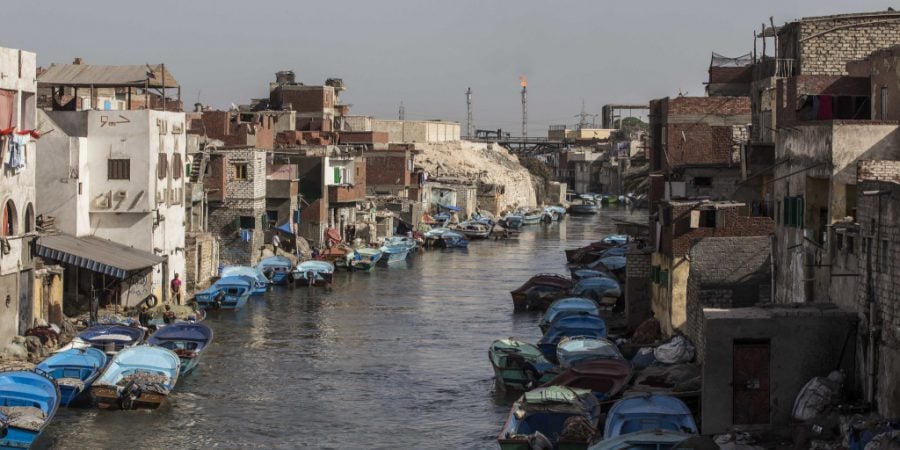 Water quality degradation is a major issue in Egypt and is threatening human health, economic development and social prosperity.[1] Polluted water not only impacts human health directly when consumed but also indirectly when used to irrigate food crops. A high level of contaminants in irrigation water increases the concentration of these contaminants in soils and subsequently in fruits and vegetables.[2]
The severity of the pollution problem varies between different water bodies depending on: flow, use patterns, population density, the extent of industrialization, availability of sanitation systems as well as social and economic conditions.[3] Discharge of untreated or partially treated industrial and domestic wastewater, leaching of pesticides and fertilizer residues, disposal of solid wastes and navigation are potential sources of pollution.
Since the construction of the Aswan High Dam, water quality in the Nile has become largely dependent on the water quality in Lake Nasser and less dependent on water quality fluctuations in the Nile's upper reaches. Water released from Lake Nasser generally exhibits the same water quality with minor seasonal variation and the same overall characteristics (low organic and heavy metals content). [4]
Downstream changes in water quality are primarily due to a combination of land and water use as well as water management interventions such as: (a) different hydrodynamic regimes regulated by the Nile barrages, (b) agricultural return flows and (c) domestic and industrial waste discharges, including oil and waste from passenger and river boats. These changes become more pronounced as the river flows through the densely populated urban and industrial centres of Cairo and the delta region.[5]
The Nile is a significant source of drinking water. However, the consequences of anthropogenic activity, including agricultural runoff and industrial and municipal waste, are causing increasing pollution. For example, the section of the river from Aswan to the el-Kanater Barrage receives polluted water from 124 sources, of which 57 are industrial and the remaining 67 are agricultural drains. In addition, 239 wastewater treatment plants discharge 1.3 MCM annually into the river.[6]
Heavy metal contamination of surface water is a particularly serious ecological problem due to the metals' potential toxicity for humans and the environment.[7] Not only are the metals non-degradable but they can also bioaccumulate through the food chain.[8], [9], [10]
Further, predicted decreases in the water budget in Egypt as a result of the construction of the Grand Ethiopian Renaissance Dam will reduce the dilution strength of the Nile, effectively concentrating the pollutants.[11]
Continuous discharge of contaminants, mainly nutrients and heavy metals, has impacted the river's health and ability to self-purify. More sophisticated treatment methods are needed to produce drinking water of adequate quality. The current water treatment plants do not always function properly as a result of poor maintenance and improper operation. Even when water treatment is satisfactory, drinking water can be contaminated by leaks in the distribution network.[12] Similarly, more than a third of drinking water is lost during distribution due to the antiquated pipes. If unaddressed, the combination of water scarcity and pollution could result in one of the worst water crises Egypt has ever experienced.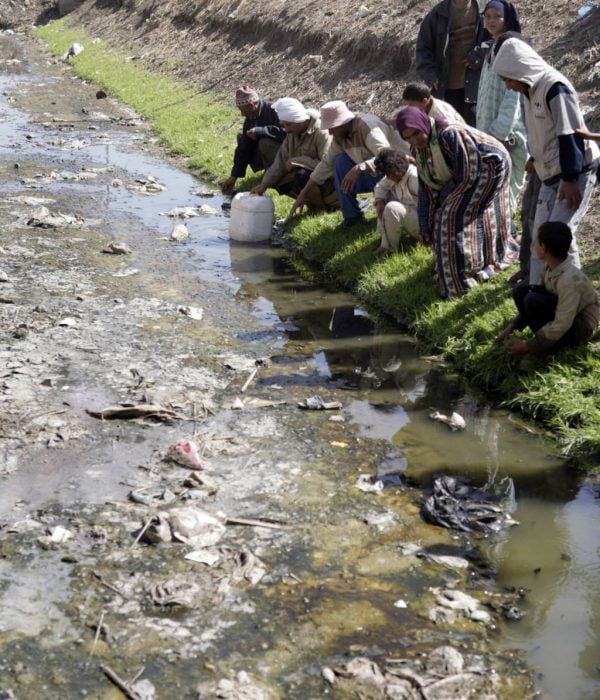 Besides the social concerns associated with a water shortage, pollution of the Nile is becoming an obstacle to development and economic growth. Urgent action is needed to curb this phenomenon, such as the inspection and monitoring of industrial, irrigation and domestic discharge facilities to ensure compliance with Egyptian laws, while taking into account the country's development requirements. The government has begun to introduce new water regulations. It is also replacing outdated and ineffective treatment techniques to improve the quality and availability of treated wastewater.[13] A new code for the reuse of treated wastewater according to its quality has also been issued. This will allow wider application of wastewater effluent,rather than using it for wood trees only.[14]
[1] Zyadah H, 1996. Occurrence of some heavy metals in two aquaculture systems in Damietta Province, Egypt. Journal of Union of Arab Biologists 6(A):219-32.
[2] Voyslavov T, Tsakovski S and Simeonov V, 2013. Hasse diagram technique as a tool for water quality assessment. Analytica Chimica Acta 770:29-35.
[3] Abdel-Satar A, Ali M and Goher M, 2017. Indices of water quality and metal pollution of Nile River, Egypt. The Egyptian Journal of Aquatic Research 43(1):21-29.
[4] El-Mahdy M.E., Abbas M.S., Sobhy H.M. (2018) Investigating the Water Quality of the Water Resources Bank of Egypt: Lake Nasser. In: Negm A.M. (eds) Conventional Water Resources and Agriculture in Egypt. The Handbook of Environmental Chemistry, vol 74. Springer, Cham
[5] Ghodeif K. Wahaab R. Sorour S. (2017) The impact of low-flow season on source drinking water quality, Rosetta branch, Egypt. J Water Sanit Hyg Dev 7 (3): 477-484. https://doi.org/10.2166/washdev.2017.158
[6] Abdel-Satar A, Ali M and Goher M, 2017. Indices of water quality and metal pollution of Nile River, Egypt. The Egyptian Journal of Aquatic Research 43(1):21-29.
[7] Zhang B et al., 2012. Hydrochemical characteristics and water quality assessment of surface water and groundwater in Songnen plain, northeast China. Water Research 46(8):2737-2748.
[8] Elkady A et al., 2015. Distribution and assessment of heavy metals in the aquatic environment of Lake Manzala, Egypt. Ecological Indicators 58:445-457.
[9] Ezzat S et al., 2012. Water quality assessment of River Nile at Rosetta branch: Impact of drains discharge. Middle East Journal of Scientific Research 12(4):413-423.
[10] Goher M et al., 2014. Evaluation of surface water quality and heavy metal indices of Ismailia Canal, Nile River, Egypt. Egyptian Journal of Aquatic Research 40(3):225-233.
[11] Elewa H, 2010. Potentialities of water resources pollution of the Nile River Delta, Egypt. Open Hydrology Journal 4(1):1-13.
[12] Shamrukh, M and Abdel-Wahab A, 2011. Water pollution and riverbank filtration for water supply along River Nile, Egypt. In Shamrukh, M (ed.), Riverbank Filtration for Water Security in Desert Countries. NATO Science for Peace and Security Series C: Environmental Security. Springer, Dordrecht.
[13] ElZein Z, Abdou A and ElGawad I, 2016. Constructed wetlands as a sustainable wastewater treatment method in communities. Procedia Environmental Sciences 34:605-617.
[14] Hassan K and Tippner J, 2019. Acoustic properties assessment of neem (Azadirachta indica A. juss.) wood from trees irrigated with secondarily treated wastewater BioResources 14(2):2919-2930.