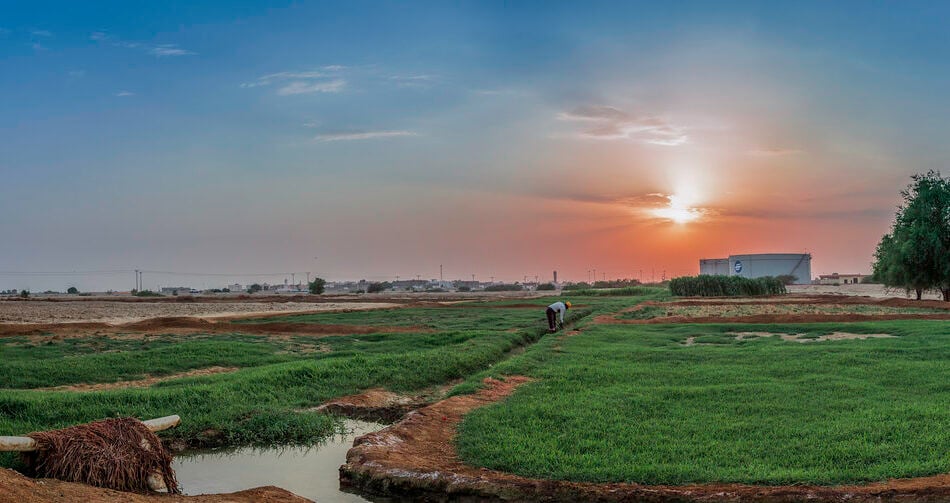 Although more than 97% of the population has access to fresh water in KSA, the water sector has several key issues. These include the absence of reliable renewable water resources, exhausted groundwater aquifers, unsustainable water use in agriculture, high per capita water use (263 L/cap./d in 2019)[1] and high water losses. Further, KSA depends heavily on seawater desalination to fulfil its increasing demands. However, desalination is costly and unsustainable, accounting for 10-20% of the country's energy consumption. The low water costs paid by end-users are equivalent to 5-10% of the actual production costs in the public sector, which has led to irrational water usage.[2]
Outline of long-term strategy
National Water Strategy
MEWA developed the Saudi National Water Strategy 2030. The strategy's main goal is to achieve 'a sustainable water sector, safeguarding the natural resources and the environment of the Kingdom and providing cost-effective supply and high-quality services'. This goal is further detailed in five strategic objectives:
Ensure continuous access to adequate quantities of safe water, under normal operations and during emergencies.
Enhance water demand management across all uses.
Deliver cost-effective and high-quality water and wastewater services, accounting for affordability.
Safeguard and optimize the use of water resources, while preserving the local environment for the highest benefit of Saudi society in this generation and the future.
Ensure water sector competitiveness and positive contribution to the national economy through promoting effective governance, private sector participation, localization of capabilities and innovation.
To achieve the previously mentioned goals, the strategy also formulated ten strategic programmes. These are summarized in Table 1.
Table 1: Strategic programmes within the National Water Strategy.[3]
| | | |
| --- | --- | --- |
| Name of programme | Objective | Responsibility |
| Water Law and Resource Management Regulations | Introducing a comprehensive set of policies and implementing an adequate legal and regulatory framework. | MEWA |
| Water Resource Management | Implementing integrated resources management and planning at the national level and optimizing the use of available water resources. | MEWA |
| Sector Resilience | Ensuring that the water and wastewater sectors are prepared to meet any disruption to day-to-day operations. | MEWA |
| Innovation and Capability Building | Promoting research and development and localization and enhancing leadership and water management capabilities. | MEWA |
| Supply Chain Efficiency and Service Quality | Improving the sector's operations and service delivery. | MEWA |
| Water Services Regulations | Ensuring that the economic regulator (ECRA) fulfils its role to regulate water services, alongside electricity and cogeneration. | ECRA |
| Saline Water Conversion Corporation Reconstructing | Part of the SWCC privatization strategy for restructuring and transforming the SWCC to achieve its revised mandate. | SWCC |
| Involving the Private Sector in the Production and Treatment of Wastewater | Assembling production assets and wastewater treatment for privatization purposes. | Water and Electricity Company |
| Distribution Restructuring and Privatization | Transforming the distribution sector by streamlining distribution utilities and preparing them for privatization. | NWC |
| Saudi Irrigation Organization Restructuring and Irrigation Improvement | Restructuring the Saudi Irrigation Organization (SIO) to achieve its expanded role. | SIO |
National Programme for Water Conservation (Qatrah)
In 2019, the NWC launched Qatrah (Arabic for 'droplet'), a national transformation programme to preserve water as a national resource in line with the objectives of National Water Strategy 2030. Qatrah aims to reduce daily per capita consumption to 200 litres by 2020 and 150 litres by 2030. It also aims to change individual behaviour by raising awareness of water problems. In addition, the programme is rationalizing water sources to protect natural resources and all aspects of life that depend on water.[4] [5]
With abundant oil reserves and limited renewable water resources, KSA has been successful in providing water to the entire country by investing in desalination. However, water demand is growing, and consumption is forecast to reach 12.3 MCM/d in 2040. Desalination is expensive, and agriculture consumes a large amount of water. As KSA's water challenges increase and become harder to ignore, the country must work to provide creative solutions and innovative technologies to produce, distribute, manage and regulate this vital resource.