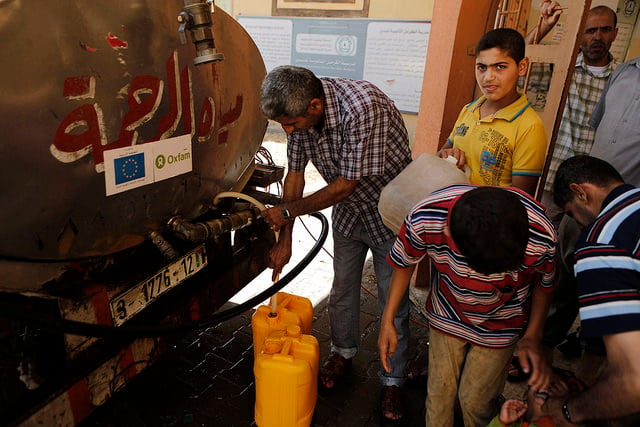 In response to the humanitarian water crisis in Gaza, the PWA initiated the Gaza Sustainable Water Supply Program (GSWSP), which takes a comprehensive approach to increasing water supply in Gaza. This includes:
Construction of the Gaza Central Desalination Plant with an initial capacity of 55 MCM/yr and which will be enlarged to a capacity of 110 MCM/yr by 2035;
Construction of three short-term low-volume (STLV) desalination plants, in the north, centre and south of Gaza;
Construction/rehabilitation of four waste water treatment plants.
Although some progress has been made in achieving the above program objectives, the construction of the desalination and waste water treatment plants faces continued delays as a result of the ongoing blockade, the lack of donor confidence and subsequent shortfall in funding, and the absence of a reliable energy supply.
– Blockade:
Israel imposed a blockade on the Gaza Strip in 2007, which is still in force. Since then, access has been denied to even the most basic equipment, materials, supplies and systems to maintain and operate Gaza's fresh- and wastewater treatment plants. Examples of critical equipment and materials that are difficult or impossible to get include chlorine as a water disinfectant and water filter membranes. The situation is even worse for major infrastructure maintenance and upgrades, with continued delays to the three existing wastewater treatment facilities as well as the construction of new sewage treatment plants and a large desalination plant.
– Shortfall in funding:
Each time Israel attacks and damages or destroys existing infrastructure in Gaza, the confidence of international donors is eroded. At the same time, potential donors are waiting for an easing of the blockade and increased political stability within the Palestinian Authority, with better control in Gaza, as conditions to be met before they fulfil funding pledges[i].
– Lack of energy supply:
The PWA has reported that by 2017, all water and wastewater projects in the Gaza Strip will need no less than 85 megawatts of power to run effectively.
Even if the existing desalination, freshwater and wastewater treatment plants were fully operational, they depend on fuel and electricity to power their systems. Lack of electrical capacity to meet demand, unpredictable and frequent cuts in electrical supply and regular fuel shortages prevent dependable water services being provided. Gazan electrical demand is estimated to be at least twice as much as available capacity, even with power supplied by Israel, Egypt and the Gaza Power Plant (if and when it is operational)[ii]. These cuts and shortages not only affect the treatment plants, they also interrupt the operation of water-pumping stations necessary for water distribution and household storage.  On top of the frequent and unpredictable outages and fuel shortages, the damage done to Gaza's main generating station by Israeli attacks in 2006, 2009 and 2014 has significantly limited the ability of the Palestinian Authority to meet the basic electrical and water needs of its citizens, with power outages of up to 18 hours a day even for critical facilities. With the blockade restricting the available fuel, these facilities cannot even operate back-up generators to "keep the lights on" when the main power supply is cut off.
---
[i] UN-OCHA (United Nations Office for the Coordination of Humanitarian Affairs), 2015. Humanitarian Bulletin Monthly Report, January 2015. Available at https://www.ochaopt.org/documents/ocha_opt_the_humanitarian_monitor_2014_10_27_english.pdf, accessed 10 March 2015.
[ii] FoEME, 2014. The Water, Sanitation and Energy Crises in Gaza, Humanitarian, Environmental and Geopolitical Implications With Recommendations for Immediate Measures, August 11th, 2014, Dr. Oded Eran, INSS; Gidon Bromberg, Michal Milner, EcoPeace/FoEME. Available at http://foeme.org/www/?module=projects&project_id=54, accessed 6 May 2015.