Palestine lies within the Middle East and North Africa (MENA) region. While its boundaries have changed since 1947, it is still located between the Mediterranean Sea and the Jordan River.
Currently, Palestine is divided into two physically separated areas known as the West Bank (including East Jerusalem) and the Gaza Strip, with areas of 5,661 km2 and 365 km2 respectively. In 2012, the average population density was 456 inhabitants/km² in the West Bank and 4,353 inhabitants/km² in the Gaza Strip (Map 1).[1]
The total Palestinian population has almost doubled over the last 20 years to reach 4.55 million in 2015. In 2008, the Palestinian Central Bureau of Statistics estimated that the population growth rate would rise to around 3.4% for the period 2010-2015. The West Bank has a population of 2.79 million, which is unevenly distributed across its 11 governorates. The Gaza Strip, with a population of 1.76 million, is a coastal territory situated between the south-eastern shore of the Mediterranean Sea and the north-western edge of the Sinai Desert (Fig. 1 and 2).[2]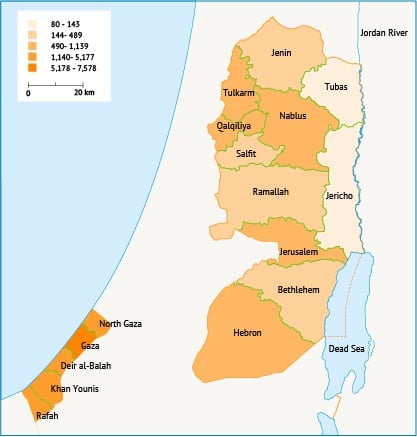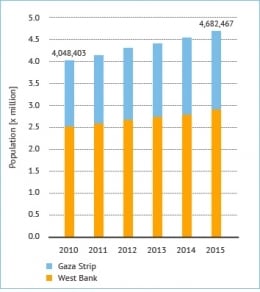 [1] PWA, 2012c.National Water Strategy for Palestine, Toward Building a Palestinian State from a Water Perspective, Draft Copy, 2012. Available at: https://www.humanitarianresponse.info/system/files/documents/files/PWA%20-%20National%20Water%20Strategy.pdf, accessed 20 April 2015.
[2] Palestinian Central Bureau of Statistics, 2014. Available at http://www.pcbs.gov.ps/, accessed 10 March 2015.
[3] Amnesty International, 2009. Troubled Waters – Palestinians Denied Fair Access To Water. Available at: http://www.amnestyusa.org/pdf/mde150272009en.pdf, accessed 1 May 2015.
[4] B'Tselem, 2013.Taking control of water sources in the Jordan Valley. Available at: http://www.btselem.org/presentations/jordan_valley/water_eng.htm, accessed 8 May 2015.