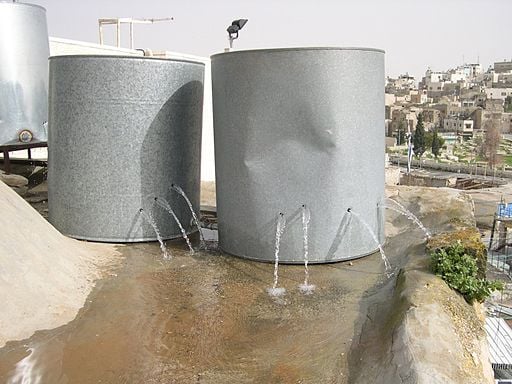 The main challenges hindering water resource development and sustainable water management in Palestine can be summarized as:
Governance and occupation-related constraints
Institutional weaknesses
Lack of finance
Technical limitations to developing groundwater resources
The Palestinian-Israeli conflict has significantly damaged the water/waste water infrastructure in Gaza and the West Bank. This in turn has had a significant negative impact on the Palestinian people in both areas. The lack of access to a consistent, sufficient, safe and affordable water supply and the absence of an effective wastewater sanitation system not only adds to their daily suffering but also poses a health and safety risk.
In order to address this critical situation, a major and timely effort in terms of financial, material and physical resources is required to avoid further human catastrophe. The need for infrastructure repair and rebuilding covers all components of the water and wastewater systems, including piping and pump stations; wells and reservoirs; fresh- and wastewater treatment facilities; power supplies and control systems; construction and maintenance facilities, vehicles and trained personnel; and operations, administration and material storage facilities.[i] Beyond this, there is a clear need to address the ability of the Palestinians to treat and reuse their own wastewater.
Over the last 30 years, only six of 30 planned wastewater treatment plants submitted to the Joint Water Committee (JWC) have been approved. A combination of subsequent construction delays and lack of approval by the Civil Administration (CA) meant that until 2012 there was only one functioning wastewater treatment plant in Palestine, which treated less than 3% of the sewage produced. [ii]
Israel has taken advantage of this lack of Palestinian wastewater treatment capacity by putting in place policies, practices and plants designed specifically to benefit Israel's interests over Palestine's.
An example of this is the ongoing imposition by the Israeli government of a deduction from tax revenues collected on behalf of the Palestinian Authority, which over the last 30 years has amounted to more than $42 million. These funds, which have been taken without accounting details, prior notification or compensation, have been used to construct and operate plants that now take and treat around 15 MCM/yr (21%) of Palestinian West Bank wastewater for use in the Israeli agricultural sector.[iii]
It should be noted that while the PWA has secured funds through different donors for small- and large-scale sewage treatment facilities and plants in the West Bank, permits from the JWC and the CA to implement these projects are still pending.
---
[i] PWA, 2014d. Gaza Water Supply and Sewage Systems Improvement Project, Environmental and Social Impact Assessment (ESIA) & Environmental and Social Management Plan (ESMP) for Gaza Water Supply and Sewage Systems Improvement Project (WSSSIP) Phase 1 and Additional Financing (AF), September 2014. Available at:
http://www.pwa.ps/userfiles/file/تقارير/تصنيف%201/FINAL_ESIA_ESMP_22Sep2014.pdf, accessed 17 April 2015.
[ii] Ibid.
[iii] PWA, 2012b, Palestinian Water Sector. Status Summary Report: In Preparation for the Meeting of the Ad Hoc Liaison Committee (AHLC) 23rd September 2012, New York. Available at: http://reliefweb.int/sites/reliefweb.int/files/resources/Water%2520summary%2520for%2520AHLC%2520report%2520FINAL.pdf, accessed 29 April 2015.